Products & Services

Benefits
Light Gauge Steel Framing Product features:
Light Weight
High strength to weight ratio
Economical
Non-combustible and Fire-resistant (Rating up to 4 hours!) without spray fireproofing
Will not rot or warp
Termite, insect, and vermin proof
Mold and mildew proof
Can be used in conjunction with virtually any finish material
Architecturally compatible
Wall, Floor, and, Truss UL Fire rating of 1, 1 1/2 and 2 hours
STC rating to 58
G-60 Hot Dipped Galvanized coating for rust resistance (G-90 available upon request)
Panels and Trusses are engineered to meet new IBC Seismic Load requirements
Can achieve virtually all Live and Dead loads for residential structures
Factory Fabricated Panels & Trusses features:
Full time Quality-Assurance Control and Inspection in our plant
Exterior panels come sheathed with selected materials
Load-bearing panels come with our Load Distribution Member and pour stops (when required) welded to the panel
Length and width tolerances accurate plus 0 minus 1/8 inch
Panels are fabricated in compression table to insure a tight fit between the studs and track without the use of additional shims.
Dependable and reliable deliveries by Professional Drivers
Trailers are loaded sequentially to allow installation directly from the trailer without costly downloading and double handling.
While you are performing your site work and foundations, American Panel Tec is fabricating your panels and trusses in a controlled factory environment.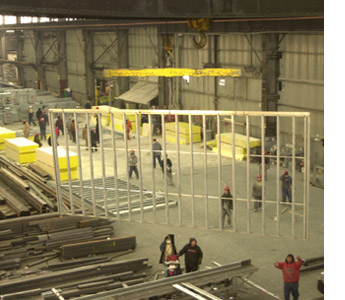 American Panel Tec load bearing walls can be designed to support the following structural floor and roof truss systems.
Composite Joist & Concrete
Precast Plank
Panels can be designed to support any thickness precast concrete floors
C-Joists
Wood Joists
2x lumber
TJI
Open web wood floor trusses
Bar Joists
Standard K Series bar joists and metal deck with concrete topping
Metal Deck Systems
Versadeck, and other structural metal deck floor systems
Roof Systems
Metal Trusses
Wood Trusses
Bar Joists & Metal Deck
Furnish & Installation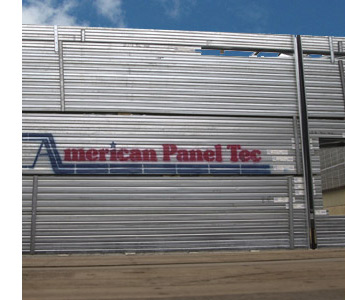 Furnish and install panels
American Panel Tec can design, fabricate, and install our wall and floor panels. Our panels can be designed to support all types of floor systems including, Hambro, Ecospan, composite deck, precast plank, "C" joists, and others.
Furnish and install trusses
American Panel Tec features the Alpine brand Trusssteel™ Truss System. The Alpine system consists of proprietary shaped chords and webs. The connections are made with patented "Double Shear Screws" that allows the fabricator to assemble the truss from one side, thereby saving time and labor. Screws are color coded so that inspection of the connections can be made from the floor below. The trusses are particularly rigid allowing for greater clear spans than other truss systems, and can be handled in the horizontal position without bending. The rigidity of the trusses allows for 25% less bracing than other truss systems. American Panel Tec can provide installation for projects through our subcontractors. Alpine trusses are UL approved and rated and American Panel Tec is an approved UL fabricator.
Furnish and install composite joists
American Panel Tec will furnish and install both the Hambro and Ecospan Composite Floor Systems projects. In some instances, depending upon the location of the project, American Panel Tec can also supply, place, and finish the concrete slabs for the floor systems.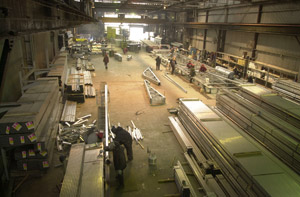 Applications
Our main facility consists of 90,000 sq. ft. of manufacturing and storage area. We have seven (7) overhead bridge cranes with 25-ton capacities. Special care is taken in the process of ordering materials from our vendors. A rigid steel specification accompanies every purchase order of Light Weight Steel Framing to insure conformance to gauge thickness, yield strength, galvanize finish, and profile configuration. All of our material is "Prime Quality" G-60 hot dipped galvanized. As we receive the materials they are inspected for quality conformance before they are entered into the fabrication process. All layouts are accomplished using precise computerized panel and truss drawings. Every profile is cut in our shop to insure zero tolerance.
Quality Assurance
All details of your project are executed in an atmosphere of consistent concern for quality and precision. We have a strict Quality Assurance Program, which requires the inspection of a broad list of dimensions, studs sizes and locations, openings, connections, welds, and labeling for each and every panel and truss. As fabrication proceeds, we coordinate with you so that all shipping and erection preparation are made. Panel layouts and truss placements drawings are coordinated with the erection contractor. Your order is carefully loaded onto flatbed trailers in pre-arranged numerical sequence for unloading directly from the truck onto the waiting deck for erection.
Affiliations